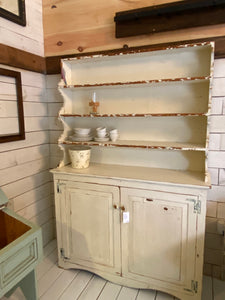 Olde Post Vintage
Antique Hutch
Regular price
$525.00
Sale price
$575.00
Unit price
per
This classic Antique Hutch is a timeless piece that is sure to impress, in any room in your home!  It has detailed craftsmanship, it is at least 50 years old and was originally crafted in MA. It's sturdy and classic design adds farmhouse/rustic charm and valuable storage space to any space. The wavy cutouts on the sides are a beautiful touch and what makes this piece one of a kind.

This hutch is ONE piece, the back is solid, it has one large shelf inside that creates two sections that are approximately 16" tall.
I've used this in my living-room as a library hutch, and dining-room as a wine glass display.  Old Books & Glassware look amazing on this piece! 
Dimensions:
52w x 77h x 16deep
---